25 Aug 2023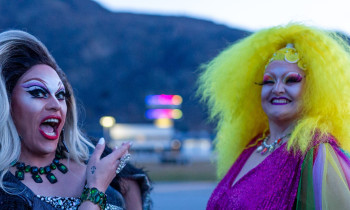 To celebrate Winter Pride 2023, Queenstown Airport and Airways New Zealand are shining a welcoming rainbow from the air traffic control tower.
A multicoloured array of lights were switched on this evening (25 August) and will light up the tower for the 10 days of the event, which encourages locals and visitors alike to come together and celebrate their diversity.
Queenstown Airport has been a Winter Pride sponsor since 2019, with Airways joining as a sponsor this year.
"The festival aligns with our commitment to provide a safe, welcoming and inclusive environment at the airport, and attracts thousands of visitors to our district," Queenstown Airport Chief Executive Glen Sowry says.
"We want to ensure everyone feels welcome from the moment they arrive, so we have worked with Airways to create a spectacular surprise for those landing at Queenstown Airport this year."
"Airways is committed to supporting and celebrating diversity among our own people and in the wider community," Airways CEO James Young says. "Our purpose of safe skies today and tomorrow extends to wanting all of our people to feel safe to be their whole self at work and when they travel. We are excited to be partnering with Queenstown Airport to celebrate Winter Pride."
Winter Pride director Martin King says the festival celebrates love, community, diversity, visibility, safety and inclusion.
"It's super-exciting to see Queenstown Airport and Airways rolling out the rainbow on such a large scale. It's a fabulous way to get the party started."
Airlines have been consulted about the display, which has been designed in consultation with safety as the first consideration.
Photos are available in Dropbox: Winter Pride Images – Airways Tower
Full details of Winter Pride: https://winterpride.co.nz/
About Queenstown Airport
Queenstown Airport is New Zealand's fourth busiest airport. It was established by the community in 1935 and is majority owned by the Queenstown Lakes District Council.
The airport's greatest attribute and strategic value is its central location in the heart of the spectacular Southern Lakes region. With daily scheduled flights from Auckland, Wellington, Christchurch and the east coast of Australia, ZQN serves a steadily growing catchment of more than 70,000 people. And it is the gateway to the lower South Island for visitors, providing easy access to some of New Zealand's most iconic destinations, including Queenstown, Wānaka, Fiordland and Central Otago. It is also the home base for a range of helicopter and fixed-wing operators offering scenic flights and other tourism activities.
About Airways New Zealand
Airways provides air navigation services within New Zealand airspace, and across our Oceanic Flight Information Region – one of the largest airspace regions in the world.
We are also responsible for maintaining and investing in the aviation infrastructure that supports New Zealand's air traffic management system.
Alongside our core business providing air traffic management services in New Zealand, Airways International delivers air traffic management consultancy, airspace design, and training products and services around the world.
Airways employs approximately 800 staff nationally in highly skilled and technical roles. Our people work across the Christchurch Radar Centre, Auckland Oceanic Centre, 17 control towers, and corporate offices in Auckland, Wellington and Christchurch.
For more information, please contact:

Queenstown Airport
Phone: +64 27 839 6258
Email: media@queenstownairport.co.nz
Airways New Zealand
Phone: +64 21 438 243
Email: communications@airways.co.nz